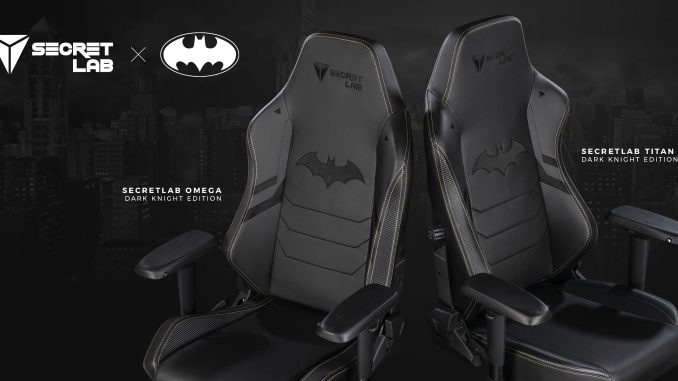 Secret Lab, einer der führenden Hersteller von Gaming Chairs, gab heute bekannt dass zum Anlass des 80.jährigen Jubiläums von Batman eine Sonderedition des Omega und Titan Gaming Chairs in kürze erhältlich sein wird. In zusammenarbeit mit Warner Bros. wird dieser Stuhl schon in Kürze auf der Seite von Secret Labs zu bestellen sein!
Die komplette Pressemeldung in Englisch findet ihr hier:
International gaming chair maker Secretlab, in collaboration with Warner Bros. Consumer Products and DC, today announced a co-branded Dark Knight-edition Secretlab gaming chair to commemorate Batman's 80th anniversary.
The Secretlab Batman-edition chair culminates in the perfect union between Secretlab's award-winning chairs and the most beloved comic character for the most fitting homage to the world's greatest detective.
The Batman Edition will be available for both the award-winning Secretlab OMEGA and Secretlab TITAN. The co-branded line can be purchased directly via Secretlab's website (www.secretlab.co/batman).
Said Ian Alexander Ang, co-founder and CEO of Secretlab: "To create a chair worthy of Super Heroes, we took inspiration from the greatest of them all—Batman, a name synonymous with the pursuit of excellence and familiar to every household in the world. We then engineered a chair for a high-performance sitting experience, worthy of even the Dark Knight himself, using top-of-the-line materials, high-precision engineering and a stunning design—exactly how each award-winning Secretlab chair is built. "
Designed to capture the essence of the Dark Knight himself, Batman's emblem is emblazoned via a precise, intricate stitching, and the chair's complemented by suede black accents to exude a distinctive feel synonymous with the world's most beloved caped crusader.
The Batman-edition will also come with all the respective award-winning features of the OMEGA and TITAN models—such as the multi-tilt mechanism and four-directional armrests, as well as the velour memory-foam lumbar pillow and inbuilt lumbar support system respectively—to provide superior support and cushioning for the user.
Made with perfect core materials (such as Secretlab's signature cold-cured foam and robot-welded carbon structural steel for the chair's foundation) as well as equipped with the models' full suite of adjustable features—the Batman-edition Secretlab chair is designed for unparalleled comfort and the ultimate sitting experience.