Aus Aktualitätsgründen im englischen Original:
Since we started Secretlab in 2014, we've always been obsessed with quality and detail. We knew we would not release a new product without first being sure that it improved the quality of life of our users in a meaningful way. Today, we feel confident that we've achieved that with the Secretlab MAGNUS Metal Desk, our first ever PC desk.
The Secretlab MAGNUS Metal Desk is engineered from the ground up by the same team that conceived the award- winning Secretlab 2020 Series, now widely regarded as the performance leader in gaming seats. We meticulously craft our products to solve problems, drawing on years of research and development in performance ergonomics and product engineering. Just as our chairs are built to help you sit more comfortably and with a healthier posture, the Secretlab MAGNUS Metal Desk empowers you to work smarter and more efficiently with powerful organizational features and a proprietary modular ecosystem of magnetic accessories.
We believe that good design achieves more with less, and the Secretlab MAGNUS Metal Desk is simple, gorgeous and eminently functional, transforming the everyday PC desk into a high-performance design statement. It is carefully designed to pair perfectly with your Secretlab chair, giving you a chair and desk that work seamlessly with each other and help you make the most out of their respective features.
The following sections will walk you through the key outlines of the Secretlab MAGNUS Metal Desk. It is the result of years of hard work from the Secretlab design team, and we hope you'll like it as much as we do.
Ian
Co-founder and CEO, Secretlab
Secretlab MAGNUS Metal Desk — the everyday
modern computer desk
Engineered from the ground up in the design lab at our Singapore headquarters, the Secretlab MAGNUS Metal Desk is built to meet the needs of the most discerning gamers, creators, and professionals. Together with the award-winning 2020 Series chairs, the Secretlab MAGNUS rounds out a world-class productivity setup, allowing users to effectively level up their work and play. Timeless and modern, every element of the Secretlab MAGNUS' design — from its cable management tools to the thinness of its table top — has been optimized for ease of use and peak performance.
Lengths of 1.2m (47") and 1.5m (59") are available1. Pick the size that best fits your workspace, along with your very own Secretlab MAGPADTM, the world's first magnetic leatherette desk mat.
Full-coverage magnetic leatherette desk mat
Add a unique twist to your desk with an interchangeable, magnetic desk mat, crafted from plush and durable leatherette. Engineered for an incredible feel against your skin, the Secretab MAGPAD Signature Stealth mat is finished with durable double-line stitching in red and topped off with logo embroidery in gold. Capped with metal sleeves and featuring a full-coverage magnetized bottom, the desk mat will stay securely in place throughout the workday or your all-night gaming session. Choose from a range of Secretlab's Signature designs or celebrate your favorite Secretlab collaboration with the Special Edition mats.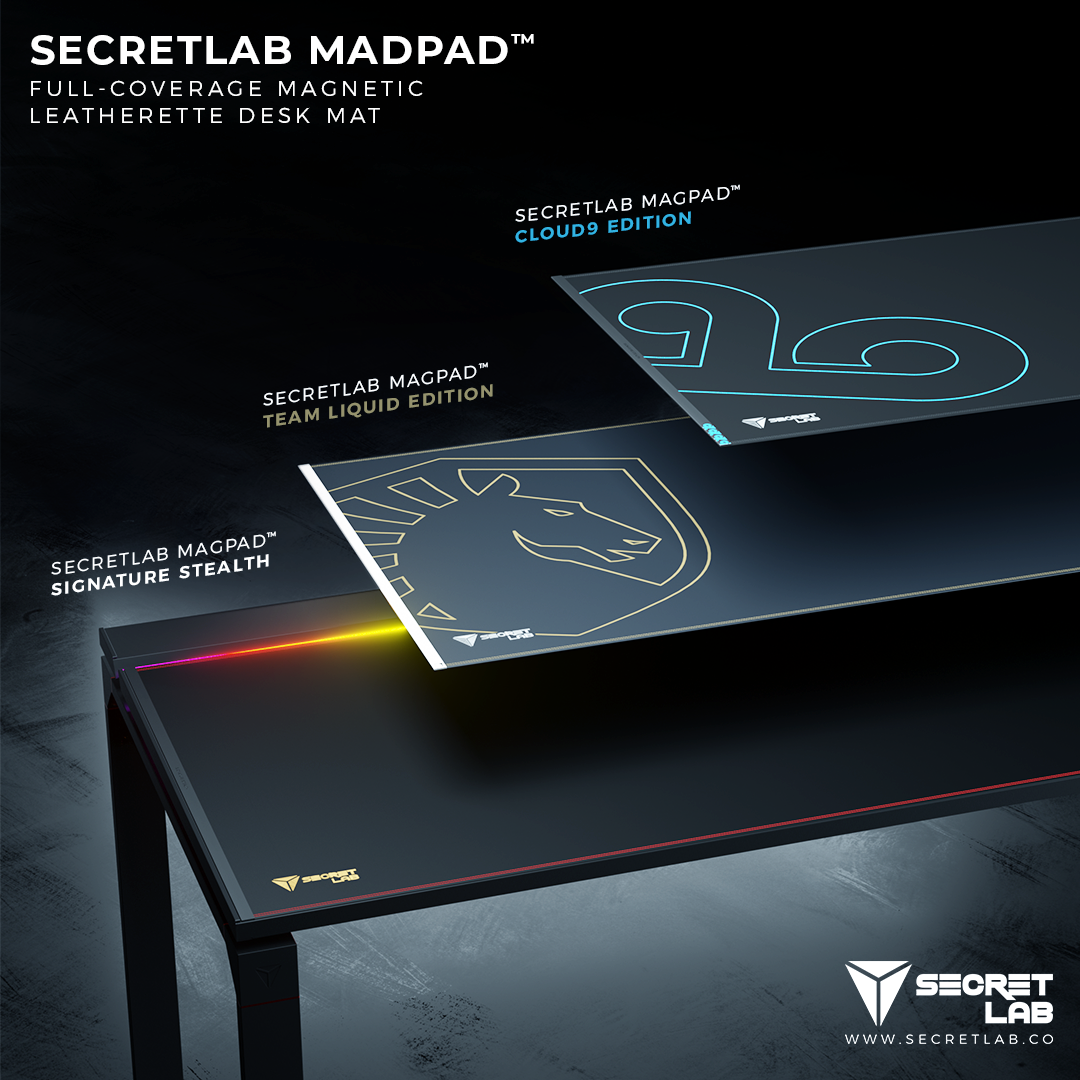 Make quick work of your cables
We've all been there — a jumble of wires, cheap cable ties, and cords snaking off your desk to gather dust and grime. Manage, hide, and store your cables with a specially fabricated cable management tray, tastefully concealed by an easy-access rear hinged cover.
Magnetic cable anchors, fastening straps, and custom-cut cable sheaths for the table legs make it easy to route and organize the cords on your desk, or run cables from your PC along each leg and hide them.
Bid farewell to cables hanging off the back of your desk and set the Secretlab MAGNUS Metal Desk flush against the wall. The offset gap in front of the rear hinged cover lets you drop your cables into the cable management tray, or even clamp a monitor arm. The hinge on the easy-access flip cover slides forward when open, so you never have to worry about the wall getting in the way.
Gain full control of your workspace with modular, magnetic accessories
Make your workspace work for you with a proprietary ecosystem of modular, magnetic accessories, designed exclusively for the Secretlab MAGNUS Metal Desk. Intuitive, secure, and oh-so-satisfying to use, magnets keep everything exactly where you want them. Stay organized with purpose-built hangers and anchors for your headphones, cables and more, then put the finishing touches on your setup with the Secretlab MAGRGB Diffused RGB LED Strips, featuring 96 individual LEDs per meter for brilliant and seamless ambient lighting.
Free up space on your desk for greater gaming freedom and a clearer mind. Special Edition accessory bundles are coming soon as well to match your favorite collaboration mat.
Thoughtful design. Meticulous attention to detail.
Backed by years of research into performance ergonomics, even the tiniest design detail on the Secretlab MAGNUS Metal Desk has been carefully considered and shaped by the way you would use it. Built with maximum efficiency and productivity in mind, it is designed to work even better with your Secretlab chair. With a thinly-milled front edge, easily slide your Secretlab chair under and bring the armrests to the same level as your work surface so you can take the strain off your wrists and elbows.
Set at a perfectly calibrated height of 735mm (29"), the Secretlab MAGNUS Metal Desk enables you to rest your feet flat on the floor and sit in a neutral position — the ideal posture to frag out or blaze through your to-do list. The desk also supports small, manual height adjustments of up to 20mm (0.8") higher, so you can make minute tweaks to suit your personal preferences or easily compensate for uneven surfaces.
Slim, sturdy steel legs keep the desk stable, while the open back and sides provide ample space for your legs and feet. Feel free to set your desktop PC on the floor while still enjoying proper airflow for optimal cooling.
Ultra-modern steel chassis
Form follows function in the Secretlab MAGNUS Metal Desk. The majority of its chassis is constructed from steel, a complex engineering and manufacturing task comprising over a year of materials testing to overcome potential shrinking and warping during welding and assembly. Exceedingly tough and strong, steel retains its structural integrity while enabling the desk to push the envelope with a slim form factor that complements its modern functionality. Topped with an elegant floating carbon steel surface and outfitted with sleek legs, the Secretlab MAGNUS Metal Desk sets the stage for the setup of your dreams.
Incredibly durable and able to withstand loads of up to 100kg (220lbs), it is the perfect fit for multiple monitors, your desktop PC, and more. With a textured powder-coated obsidian finish and clean lines, the Secretlab MAGNUS Metal Desk is a versatile upgrade for your home office or battlestation.